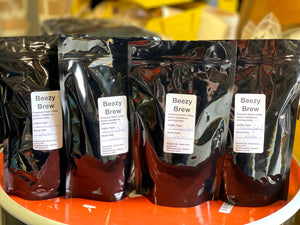 What could be better than amazing coffee beans? Getting your choice of milk with your choice of coffee!
Beezy Beez now has coffee beans! 
Beezy Brew coffee is roasted on the premises. Your coffee is roasted 24-28 hours before your delivery. You won't find anything fresher. Our coffee doesn't sit in containers for months like they do in supermarkets. Our coffee comes direct from bean farms in Colombia and Brazil. 
It's not FRESH coffee unless its Beezy Brew!
First choose how you want your coffee. Then choose which type/size of milk you want to pair with your bag of 1lb coffee. To top off your bundle, you will also receive a honeycomb wood stirrer.  
First choose:
Whole Medium Roasted Colombian Beans
Whole Dark Roasted Colombian Beans
Ground Medium Roasted Brazilian Beans
Ground Dark Roasted Brazilian Beans
Then choose your milk selection:
1 Quart of:
whole milk
chocolate milk
half and half
OR
1 14oz of:

whole milk
vanilla milk
heavy cream
Thank you for choosing Udderly Delicious NYC.