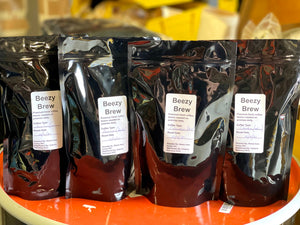 Beezy Beez now has coffee beans! 
Beezy Brew coffee is roasted on the premises. Your coffee is roasted 24-28 hours before your delivery. You won't find anything fresher. Our coffee doesn't sit in containers for months like they do in supermarkets. Our coffee comes direct from bean farms in Colombia and Brazil. 
It's not FRESH coffee unless its Beezy Brew!
Choose from whole roasted or ground Colombian medium or dark, Brazilian medium or dark beans. 
Thank you for choosing Udderly Delicious NYC.