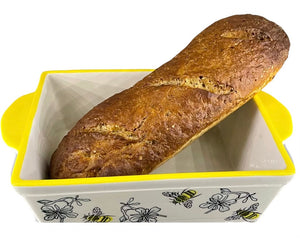 Freshly baked on our premises, our six grain bread is a healthy alternative to wheat bread. Each loaf is 15oz and infused with Beezy Beez Local Raw Honey.
Ingredients:
Wheat Flour, Rye Flour, Rye Flakes, Sesame Seeds, Flaxseeds, Corn Grits, Crushed Barley, Crushed Oats, Rye Sour, Cracked Wheat, Salt, Rye Malt, Rolled Wheat Flakes, Millet, Malted Barley Flour, Spices, Ascorbic Acid, Enzymes, Yeast, Water, Sugar, Honey, Extra Virgin Olive Oil, Sunflower Seeds, Eggs.
Thank you for choosing Udderly Delicious NYC.