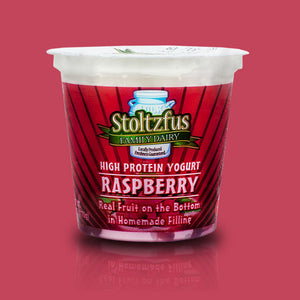 Low in calories and saturated fats, raspberries yield many good benefits. They are a rich source of dietary fiber and nutrients. An excellent source of vitamin-c consuming raspberries can help the body resist infectious agents and inflammation.
These tasty berries are also rich in B-complex group vitamins, which help the body with metabolism of carbohydrates, and fats. Try our fresh raspberry yogurt, or add raspberries to a plain yogurt baked delight, your choice, enjoy!
Stoltzfus produces all natural, high protein, non-homogenized yogurt products. They don't cut any corners with flavor; fruit on the bottom yogurts have real fruit in a homemade filling; made with no artificial flavoring or preservatives.
The yogurt is a gelatin free creamline yogurt; maple and plain, are made with cultured whole milk. Because they do not homogenize, the cream will rise to the top – hence the name "creamline". All maple syrup is locally produced in New York State.
Thank you for choosing Udderly Delicious NYC.