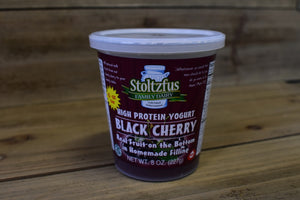 Stoltzfus turned the delicious black cherry flavor of jams and pies into a delicious Stoltzfus Family Dairy yogurt flavor! Enjoy the sweet and enjoyable black cherry for breakfast, lunch or a quick healthy snack. 
Stoltzfus produces all natural, high protein, non-homogenized yogurt products. They don't cut any corners with flavor; fruit on the bottom yogurts have real fruit in a homemade filling; made with no artificial flavoring or preservatives.
The yogurt is a gelatin free creamline yogurt; maple and plain, are made with cultured whole milk. Because they do not homogenize, the cream will rise to the top – hence the name "creamline". All maple syrup is locally produced in New York State.
Thank you for choosing Udderly Delicious NYC.