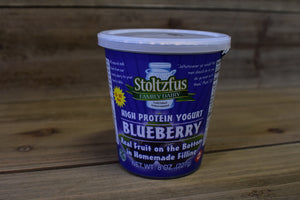 Who would have known, this succulent fragile fruit has the highest antioxidant capacity of all fresh fruit! Containing key vitamins and minerals for your health, which build your immune system and fight infection. Blueberries have also proved themselves great for aiding treatment with heart disease, preserving vision, and healing neurotic disorders. 

Stoltzfus produces all natural, high protein, non-homogenized yogurt products. They don't cut any corners with flavor; fruit on the bottom yogurts have real fruit in a homemade filling; made with no artificial flavoring or preservatives.
The yogurt is a gelatin free creamline yogurt; maple and plain, are made with cultured whole milk. Because they do not homogenize, the cream will rise to the top – hence the name "creamline". All maple syrup is locally produced in New York State.
Thank you for choosing Udderly Delicious NYC.